Singapore's latest venture is to build a new city, with underground roads for electric vehicles, vacuum garbage collection, and plenty of city farms. The newest and greenest community in this remarkable island state will be called Tengah under ambitious plans revealed by Singapore's Housing and Development Board.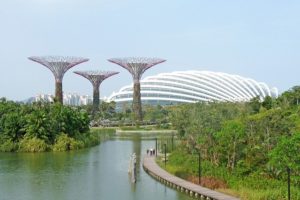 One of Tengah's most notable features will be the massive solar-powered cooling network which is slated to cater for the need for cool air of its 42000 homes while also reducing energy consumption by 30%, according to planners.
By installing more cooling units per capita than anywhere else in Southeast Asia, Singapore intends to reduce both its carbon footprint, which is currently larger than that of some countries that are 50 times its size, and also its air conditioning bill, which is increasing rapidly.
Currently, the challenge is to convince residents to move to one of the 42,000 social housing units to be constructed in Tengah and to encourage residents to adopt a lifestyle that promotes the sustainability of water, waste and energy.