A feasibility study is being carried out by Kahramaa (Qatar General Electricity and Water Corporation) to help set up investment projects in district cooling plants, allowing individual houses and villas to benefit from the most efficient cooling system.
In a statement issued by Abdulaziz Al Hammadi, director of the District Cooling Services Department, the DC power plant will reduce electricity consumption by 40% and reduce maintenance costs compared to conventional cooling systems as well as delivering enhanced longevity by remaining operational for up to 25 years.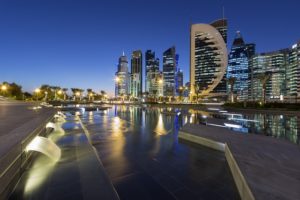 Al Hammadi said that a plant with a minimum cooling capacity of 5,000 tons for efficiency, covering 400 to 500 villas, is needed for the district's cooling system.
Al Hammadi also revealed the operator and developer would invest considerable funds in setting up factories as well as providing utilities through a pipeline network to the villas, thereby allowing owners to avoid having to install conventional air conditioning units.
Pipes will be used to supply the villas with chilled water for the plant, while a heat exchanger will distribute chilled water for the cooling system of individual villas. As a result, end users will pay a monthly fee for the service and will no longer pay for the installation of a conventional air conditioning system and will not spend money on regular maintenance.
In terms of total cooling capacity and the share of district cooling in Qatar, the total cooling production in 2020 was 5.5 million tonnes (1 million tonnes for district cooling generated by 48 DC plants and 4.4 million tonnes of cooling from conventional air conditioning), according to Al Hammadi.
Al Hammadi said that in operating DC power plants there are 3 parties involved: namely the developer, the investor and the consumer. The aim of the District Cooling Services Department is to ensure smooth operation by solving any problems that might arise in this regard.