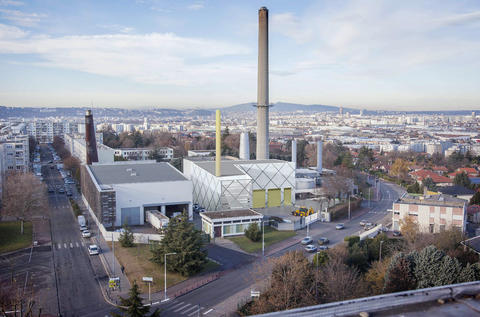 The town of Vénissieux, in the Greater Lyon area, has just inaugurated a new biomass boiler room in its heating network.
This is a major step forward for the network, as this new boilerhouse will allow the network to abandon the use of fuel oil and reduce CO2 emissions by 40% thanks to a 58% supply of renewable energy. All this is also set to reduce the network's subscribers' heating bills by up to 16%.
The driving force behind these figures is a 6 MW wood boiler, which was built by Dalkia in April 2016 and which entered into service at the end of 2016.
More than 45,000 tons of wood sourced within a radius of 150km from the location of the boiler will supply this new unit from the 5th of December and is expected to be 100% operational by the beginning of 2017.
In fact, the entire Vénissieux Énergies heating network is being modernized thanks to the installation of new cogeneration engines, the replacement of network pumps and the network and sub-stations switching to low-pressure .
In total, Dalkia have revealed that this project (boiler + modernization) will represent an investment of nearly 17 million euros, with the boiler room alone accounting for 13 million euros.
The DSP contract has been renewed with Dalkia for 20 years, and the fact that the percentage of renewable energies used in the energy mix is now greater than 50% will enable subscribers to benefit from the 10% VAT break in addition to the 16% reduction in their energy bills.
The network will supply 9600 homes and 42 sites including colleges, communities, hospitals, etc.